cannabis tours
& DIY classes
in bend, Oregon
experience - educate - explore
Experience marijuana legalization and tour Bend with knowledgeable guides. Our highly acclaimed Bend Cannabis Tour is available daily.
Whether interested in medical marijuana, growing cannabis, navigating a dispensary, or looking for unique things to do in Bend, our pot tour will stimulate your mind and answer all your burning questions.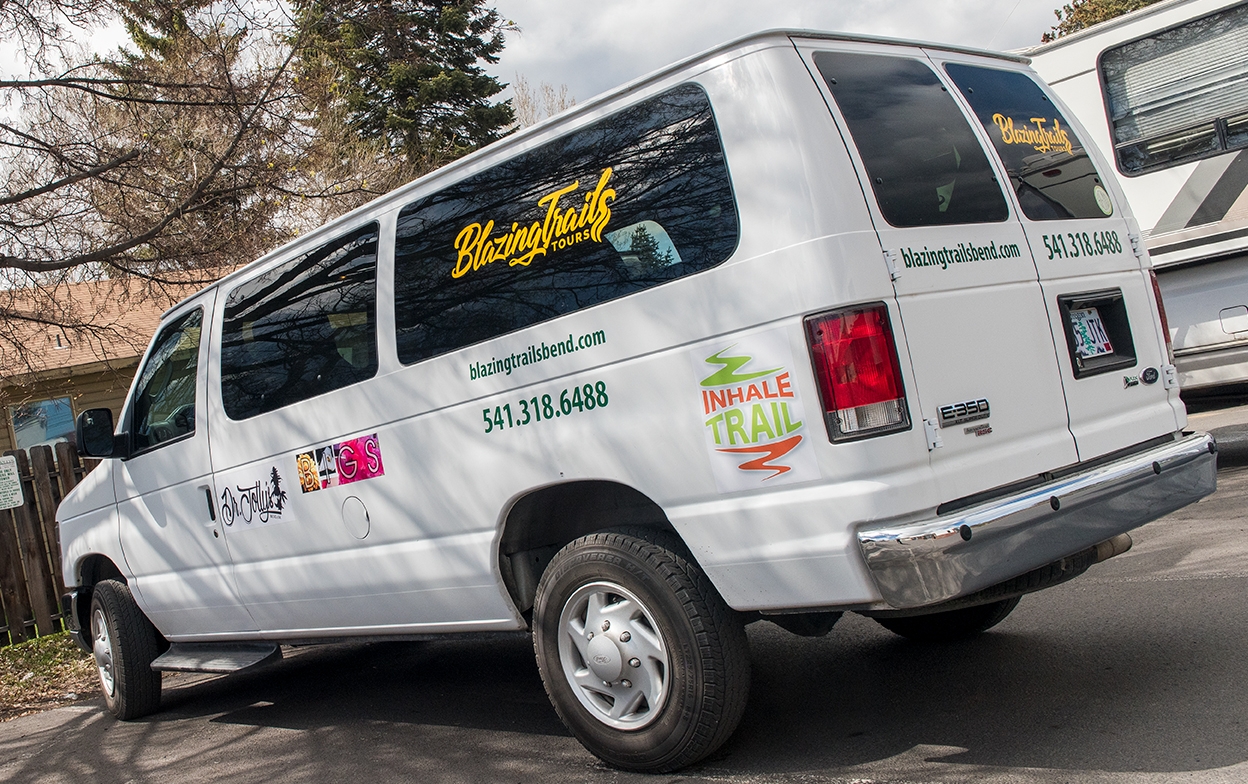 Step into the world of marijuana, meet our industry partners and explore first-hand what Central Oregon cannabis culture has to offer.
Tours also include:
cannabis consumer safety info,
Oregon history and laws,
cannabis science and
a swag bag valued at over $50 in gifts and coupons!
Now offering DIY Cannabis Classes! Learn the process for making medicated tincture, topical and capsules. Get helpful and useful information on dosing and how to properly utilize the products based on your body's needs. Limited space available, check calendar below!
BOOK your cannabis tour or class...
Must be 21+ with valid ID | OMMP cardholders welcome!
YOUR INDUSTRY GUIDES
Stacie and Tris' joint history began in Bend, Oregon in 2010 at Mother's Against Misuse and Abuse (MAMA), a medical marijuana licensing clinic focused on educating people about the responsible use of drugs. Experiencing patients from all medical backgrounds and attending seminars on cannabis science and therapeutics, they became intricately knowledgeable about using cannabis for specific ailments (i.e. chronic pain, cancer, glaucoma, MS, migraines, anxiety, etc). During this time, they also became co-hosts of their cannabis information/reggae music radio show, The High Desert Co-op on KPOV, which helped them realize their truly unique position in this budding local industry. Cannabis tours have become a perfect avenue for these two to maintain this valuable community resource.
STACIE JOHNSON Stacie Dread
I proudly grew up in Oregon, where I have always been an active individual. As a youth, I played softball and soccer and my mom would take us skiing/snowboarding almost every Sunday during the winter. After my first major injury as a young teen, attending physicians recommended prescription medications for pain and inflammation. By the time I was 16, I developed painful ulcers, along with chronic back and hip pain. When I turned a responsible adult age, I tried cannabis for the first time and felt the positive benefits immediately... and the story goes from there. I became a state licensed medical marijuana patient in 2004 and an advocate for the healing properties of cannabis.
Stacie earned a Bachelor's of Science in Outdoor Recreation and Tourism from Oregon State University-Cascades, with a focus in sustainable tourism. She also has been a marijuana grower for many years and has an Oregon Marijuana Workers Permit. She is a fifth-generation Oregonian, grew up in SE Portland and now calls Bend her home.
"You don't need a weatherman to know which way the wind blows."
TRis Reisfar TRISTONE
My cannabis reform trail began as a young man when I joined the Oregon Marijuana Initiative (OMI), Oregon's first attempt to legalize cannabis. The OMI reached the ballot in 1986, yet received only 26% of the yes vote. Remaining politically active throughout a 25 year career in the dental field, I helped fight an attempt to re criminalize cannabis in Oregon, and worked to finally legalize medical marijuana in 1997. I began covering elections and public affairs at KPOV in Bend in 2005 where I continue to host two shows; The Coop, and The High Desert Co-op. I was the manager of the Mother's Against Misuse and Abuse (MAMA) Bend medical marijuana clinic from 2010-2017.
Tristan currently serves on the Oregon Health Authority's Advisory Committee on Medical Marijuana. He is also an active member of the City of Bend Police Department's Citizens Advisory Committee since 2000. He is happily married for 28 years, has two sons and one beautiful granddaughter.
"Talk minus action equals zero."
Frequently Asked Questions
Is a cannabis tour for me? If you're looking for unique things to do in Bend, our marijuana tours have something for every canna-curious individual. Come one, come all!
Can I use cannabis products on the tour? We kindly ask that you respectfully refrain from the use of cannabis products on our tour vehicle.
Where do tours begin and end? As of May 18, 2018, at the Substance Gift Shop and Cafe, 1800 NE Division St., on the corner of NE Division St. and NE Revere Ave. in Bend. Google Map Link: https://goo.gl/maps/MFFY2jwjYWL2
What should I bring? State or federally issued ID that shows age 21+, and anything else to make your ride more comfortable. There are cup holders and USB ports available for your convenience. It's also a good idea to bring cash, as most of the dispensaries are cash-only establishments.
Are we allowed to tip our guide? Please do!
Do all riders need to be 21 or older? Yes, and present valid state or federally issued ID! OMMP cardholders of all ages are welcome; cardholders under 18 years of age welcome with registered caregiver
Why take a marijuana tour? Oregon has a rich, deep history when it comes to cannabis, and education is our top priority at Blazing Trails Tours. We research and provide the most accurate, up to date information we can access. Our tour is a wonderful juxtapose to the many Bend beer tours, cycle pub and Bend live music events that keep our community alive and active.
What can I expect? To have a blast and learn a lot! We really try to make each ride unique, educational, and fun. Each passenger will receive a swag bag valued at over $50 in gifts and coupons.
How can I get more questions answered? Give us a call at 541-318-6488 and we'll break it down for you.
Please read our Terms & Conditions
SAY 'HIGH'
We are excited to share our knowledge with you! We do also offer private and customized tours, tailored to your canna-curiosities. Contact us to find out more, we are happy to answer any and all questions to the best of our knowledge.
call us!
(541)318-6488
Tris Tristone and Stacie Dread bring you ganja news, cannabis information and irie reggae music on a weekly program on non-profit, local community radio
8-10 PM KPOV 88.9 FM Bend Oregon kpov.org